Horsham's all-female interior decorators provide painted kitchen inspiration
As our name suggests, Lady Decorators is an all-female team of interior decorators specialising in painting and wallpapering with a flawless finish.
As highly skilled and qualified interior decorators we work in properties of all ages across Sussex and Surrey, and extend our meticulous service to hand-painting kitchens – a side of our business which we have seen grow rapidly in the last five or so years.
Interior decorators to transform your dated kitchen cabinets
A professional hand-painting service is a really cost-effective and affordable way of getting more mileage out of your old wood or laminate kitchen units.
The dramatic and transformative effect of a beautifully prepared and flawlessly painted kitchen really cannot be underestimated and, as interior decorators, there are few things more satisfying than breathing new life into a dated or tired old kitchen!
When it comes to any aspect of our service, our scrupulous approach to preparation is key to achieving a completely pristine result.  With hand-painted kitchens, we remove all hardware and fittings before taking the time to thoroughly de-grease and sand down surfaces using professional power sanders with dust-free extraction. We apply primers and stain treatments and at least two finishing top coats in your chosen colour and then we re-fit handles and hinges to re-hang doors to carcasses.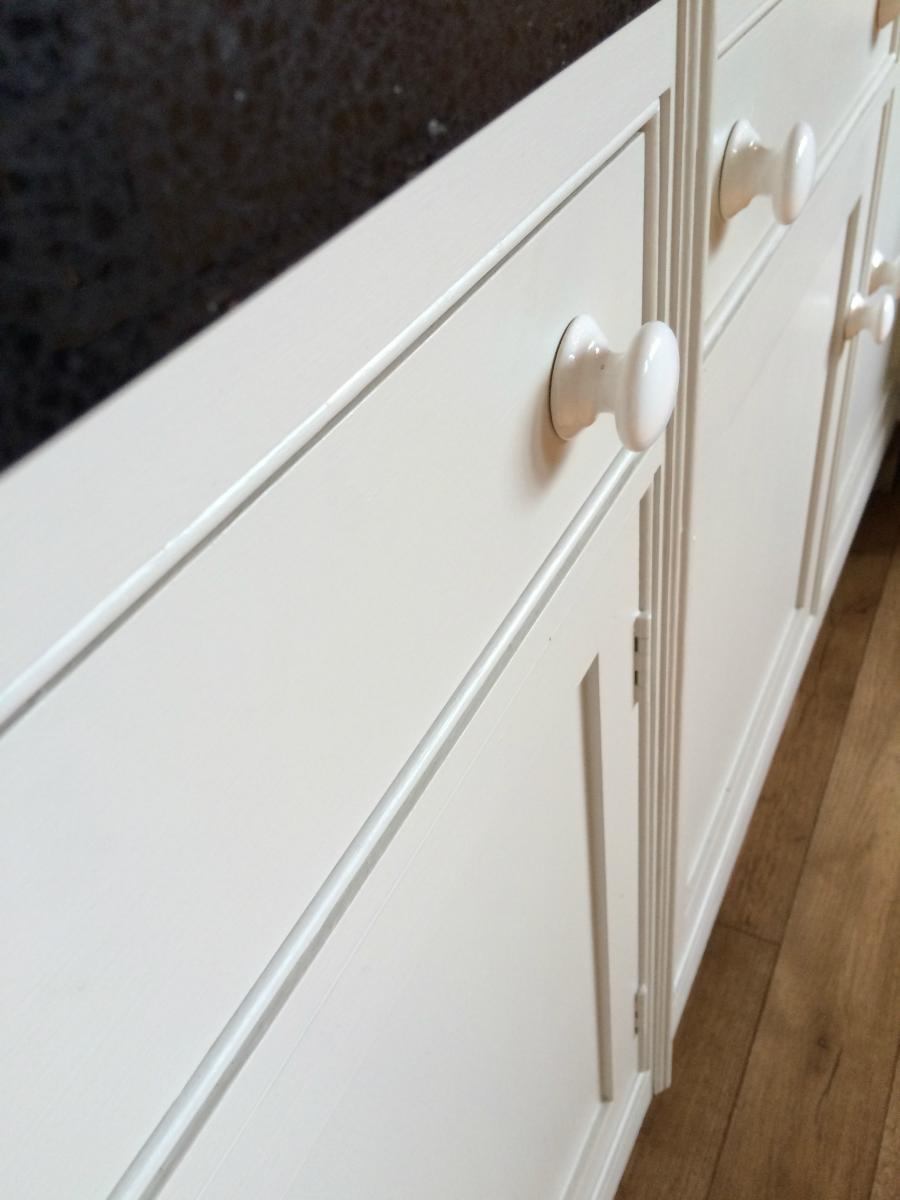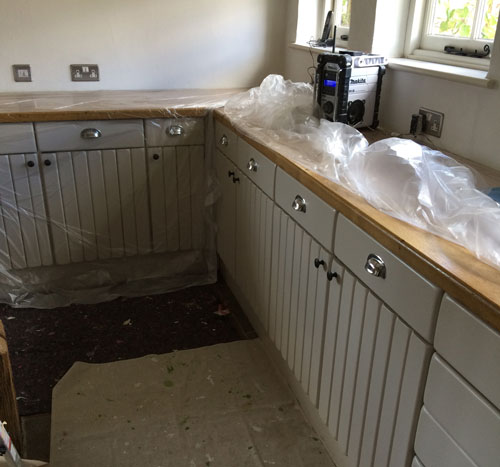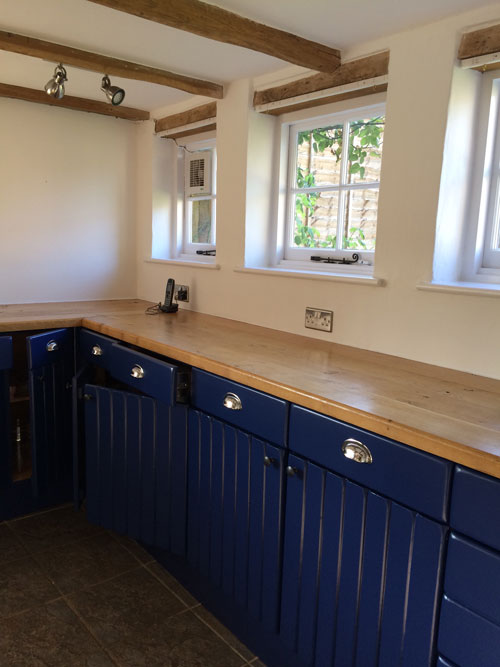 You can rely on our all-female team of interior decorators for painted kitchen inspiration
Of course the colour of your kitchen is a very personal decision, but as trusted and experienced interior decorators we are always on hand to offer the benefit of our experience and advice on choosing colours and surface finishes for your hand-painted kitchen.  Good brands which we would particularly recommend for kitchen painting include Little Greene, Mythic Paints and Tikkurila.
Recently we have seen an increase in the number of homeowners who want their kitchen cabinetry painted grey. Subtle shades of pale blue-grey and dove through to Gustavian grey and deep slate, look fresh and really suit a Shaker style kitchen and can be accented with all manner of different colours on walls, as well as porcelain sinks, tiles and marble or granite worktops.
Traditional-style wooden units in country kitchens are given a crisp look with the addition of bold heritage shades such as deep teal, inky blue, rich red and British racing green.
Another option which, as accomplished interior decorators, we have used to great effect is the combination of two harmonising colours – perhaps stone-beige for base units and chalk-white for upper cabinets or alternatively, tones of the same hue, such as slate grey paired with pale grey.  We have also used touches of pretty shades, such a dusky lilac or rose, to accent fresh white in both vintage and modern kitchen schemes.
Kitchens in neutral colours, such as soft stone, grey or sparkling white, can be ramped up with the addition of contrasting blocks of vivid colour – think a single island unit painted in a daring hot pink, ultra-violet or tangerine.  Our services also extend to freestanding furniture and we can also hand-paint dressers, consoles, tables and chairs for an equally flawless finish.
Lady Decorators: interior decorators for a flawless finish
If you're looking for an exacting team of interior decorators to provide a perfect hand-painted finish then look no further! 
Call Lady Decorators to discuss your project on 07939 318720 or click here to complete our email enquiry form.
Author: Beth Haselden, aka Lady Decorators' Mastermind
Beth likes: devouring pork pies, baking beautiful cakes and perusing paint charts